Since George's birthday is this week, I figured I should finally post about Daphne's first birthday party that happened in May.
I am not an event planner by any means, but I love planning their parties.
I knew I wanted to do this hot air balloon theme almost as soon as she was born. It is so sweet for a sweet little girl.
I got this invitation from this shop on Etsy.
We also used these invitations for the centerpieces. My sister-in-law blew it up, and just cut out the balloon. Then she put it with some other balloons in these gold jars she had. We used battery pack lights in the clouds.
Emily also made a huge hot air balloon photo booth prop.
I did her monthly photos in balloons hung up like they were flying. I found some scrapbook paper that fit the color scheme, and then just used construction paper for the basket parts. I didn't get a great picture of them at the party, so here was from the night I made them.
We got her onsie from this Etsy shop, and the skirt was from Carters.
And every girl needs a wardrobe change at her parties. Her grandma got this bubble suit from Target.
Tom made the board for the gift table, and then my mom painted the picture. Whenever we change her to a big girl bed, we'll try to incorporate this into the theme. It is so beautiful.
For the favors, I got these tags from this Etsy shop. I glued them to little favor boxes I got from Party City. Then I filled them with cotton candy I had gotten from the dollar store.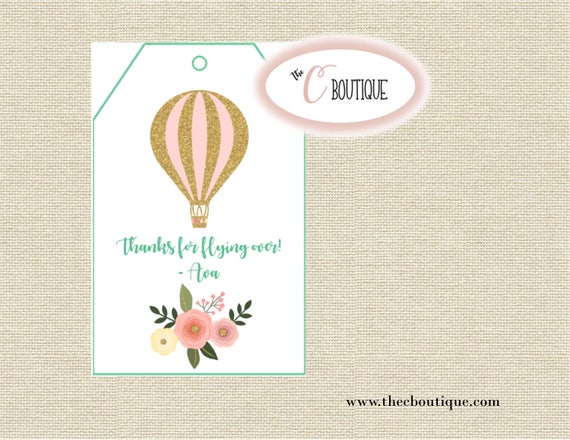 Y'all Hy-Vee impressed me once again! They provided me with two cakes. This is the one that I initially ordered. I just took in a picture and they were able to do just what I wanted. When they found out that it was for a smash cake, they made me a smaller version for free! My love continues to grow for Hy-Vee.
I think there were two many people around that Daphne was a little conservative going into the cake.
She ate it at her pace, and she was insistent she was not going to become a spectacle. The videos were pretty anti-climatic.
It was the perfect first birthday for the most perfect little girl.
She has already grown so much since this party, and I can't wait to see where she goes before the next party.